Most websites are created by using WordPress application because of its user friendly interface and ease of use. Nowadays updates for major web application are released more faster than ever, this situation was due to that hackers are more efficient to break every code for finding any loopholes aggressively. So if any vulnerabilities are reported, the concerned authorities will provide patches or updates as soon as possible. But in this community, we are all lazy to look after every possible vulnerabilities and goes after the fix.
In past years Google introduced a new technology which helps user to conceal their data and others can't operate their account with their permission. Now the technology are introduced in every corner of web application, as we call it as Two-Factor Authentication. In WordPress, there are also newly available plugin with Two-Factor Authentication. Here I am taking you to look at best Free WordPress Plugins for Two Factor Authentication.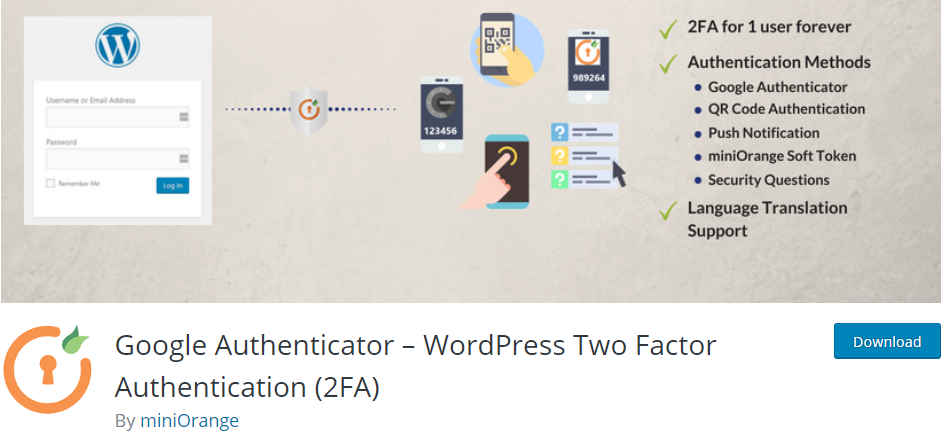 This is the most used plugin for two factor authentication in WordPress with actibe inmstallatuion around 10,000+ . Secure your WordPress login with an additional layer of security! The setup takes minutes, yet protects your site forever.  This plugin provides two factor authentication (TFA) during login. If you are looking for OTP Verification of users during Registration then we have a separate plugin for this.
Two Factor Authentication (2FA) for 1 User forever
Available Authentication Methods: Google Authenticator, QR Code, Push Notification, Soft Token and Security Questions(KBA)
Language Translation Support
Two Factor Authentication (2FA) allows authentication on login page itself for Google Authenticator & miniOrange Soft Token

Most downloaded Plugin which acts as a firewall and also contains additional security feature as Two Factor Authentication with active installation more than 80,000+. Shield is the easiest security plugin to setup – you simply activate it. Then a beautiful, step-by-step wizard will walk you through the basic configuration.Easy-to-setup, but powerful protection blocks attacks and suspicious activity, but won't lock you out.Shield is the must-have, free Security Solution for all your WordPress sites.
Powerful Core File Scanners – automatically detects malicious file changes and hacks you'd never see
Automatic IP Black List – no need for you to manage IPs!
2-Factor Authentication – including Google Authenticator and Email
Block 100% Automated Comments SPAM
Audit Trail & User Activity Logging
reCAPTCHA
A simple plugin for enabling Two Factor Authentication with 10,000+ active installations. Secure WordPress login with this two factor authentication (TFA) plugin. Users for whom it is enabled will require a one-time code in order to log in. These are used by Google Authenticator, Authy, and many other OTP applications that you can deploy on your phone etc.
Supports standard TOTP + HOTP protocols (and so supports Google Authenticator, Authy, and many others).
Displays graphical QR codes for easy scanning into apps on your phone/tablet
TFA can be made available on a per-role basis (e.g. available for admins, but not for subscribers)
TFA can be turned on or off by each user
WP Multisite compatible (plugin should be network activated)
Simplified user interface and code base for ease of use and performance
In this world, running a WordPress site without these kinds of security is a risk, so Two factor authentication is an important step towards increased security but there are many other hardening available for WordPress, to get more security features like Server side ModSecurity